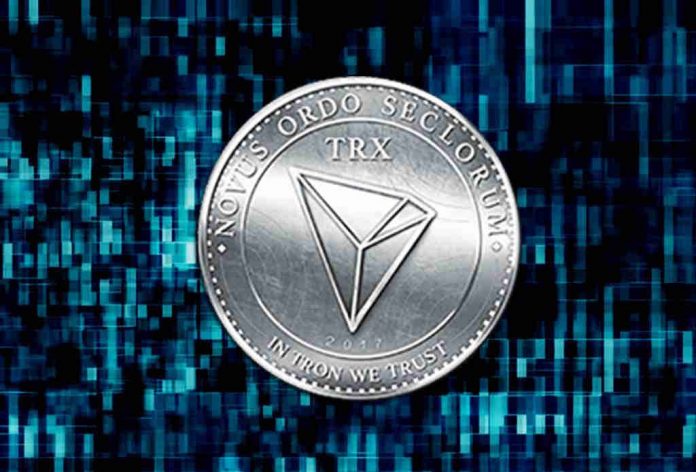 TRON is an ethereum-blockchain-based protocol, essentially a decentralized content and social sharing ecosystem in which TRONIX (TRX), the platform's native coin, is circulated.
TRON is the brainchild of Justin Sun, who has been hailed as "the next Jack Ma". Listed in the Forbes Asia "30 under 30" twice and named a "Global Shaper" by the World Economic Forum, Sun founded the Peiwo app – China's largest audio content community, with over 10 million users – and is a former Ripple representative in China.
The TRON Foundation is based in Singapore and has been approved by the Singapore Accounting and Corporate Regulatory Authority (ACRA). The Foundation is run by an independent fiduciary board and is independent from the Singapore Government.
According to the project's white paper, TRON aims to revert the Internet to its original decentralized state, by empowering users to maintain full ownership and control over the data they share online, and providing them with a blockchain-based content monetization system.
TRON'S MAIN FEATURES
As a decentralized content protocol, TRON aims to distinguish itself from the currently centralized Internet through four main features: data liberation, content-enabling, personal ICOs, decentralized infrastructure.
Data liberation
TRON will enable a mechanism of upload, secure storage, and distribution, based on peer-to-peer interactions on a free and uncontrolled basis.
Content-enabling
Digital assets are obtained through provision and distribution of content. TRON promises a content protocol with an incorporated self-payment mechanism created through blockchain technology, with fair returns for content creation, distribution and dissemination.
"In the centralized Internet system and in the vast majority of cases, content producers earn cash through advertising models. But the efficiency of obtaining cash has been extremely low because the user experience is seriously dampened by the annoyingly strong advertising push mode. […] Despite cash being earned through tipping and gifting for other types of content, content producers' profits are deducted by 30%-90% due to a lack of a paying system. What's worse, because they are hindered by the randomness of the tipping model, most content providers cannot break even," the white paper reads.
TRON's native economic system would warrant "an unprecedented one-on-one interaction between providers of digital entertainment content and ordinary users". As a result, content providers will no longer need to pay high fees to centralized platforms in order to promote their work. Moreover, they will have direct access to TRX and they will be able to monetize their content (text, pictures, videos, broadcasts, streams, games) more easily, through a fair and transparent incentive system.
Fundamentally, TRON requires the monetization of the content economy. The TRON mechanism is based on economic stimulation of content development and encrypted monetization. TRON plans to stimulate the content development ecosystem through cryptocurrency.
Personal ICOs
Users can distribute digital assets in the form of ICOs (Initial Coin Offerings), through a decentralized trading platform.
Decentralized infrastructure
TRON will provide decentralized infrastructure for distributed exchange, autonomous gaming, forecast, and game systems. Developers will be able to build decentralized online gaming platforms through TRON.
TRON'S NATIVE CURRENCY: TRONIX (TRX)
TRON's official coin is TRONIX. TRON brings forth several categories of assets extended from TRONIX, as follows:
TRONIX
TRONIX or TRX is the official token of the TRON ecosystem, and the basic unit of accounts in the TRON blockchain. The value of the token is derived from the value of TRON. With a total supply of 100,000,000,000, TRONIX has been gaining momentum recently. As of October 29, 2017, TRONIX has a market capitalization of almost $200 million dollars and the number of TRON holders has exceeded 150,000. TRONIX is supported by exchanges such as Binance, Liqui and HitBTC.
TRON Power (TP)
Users can acquire TRON Power (TP) by locking their TRONIX. In an attempt to discourage cryptocurrency speculation, TP holders will be given greater authority and more privileges within the TRON ecosystem than TRONIX holders. TRON Power is not tradeable.
TRON 20 token
TRON users will be able to issue their own tokens using TRON 20 standards.
TRON DEVELOPMENT SCHEDULE
1. August 2017 to December 2018 – EXODUS, data liberation
2. January 2019 to June 2020 – ODYSSEY, content-enabling
3. July 2020 to July 2021 – GREAT VOYAGE, personal ICOs
4. August 2021 to March 2023 – APOLLO, free flow of value-decentralized individual exclusive token transactions
5. April 2023 to September 2025 – START TREK, cash in the flow: decentralized games and market forecast
6. April 2023 to September 2025 – ETERNITY, transformation of the flow: decentralized games
TRON FOUNDATION
The Tron Foundation has been established in Singapore, "with the primary task to operate the TRON network publicly, fairly, transparently, and not for profit".
Tron Foundation was approved by the Singapore Accounting and Corporate Regulatory Authority (ACRA). The Foundation is run by an independent fiduciary board and is independent from the Singapore Government.
TRON TEAM
Founder and Chief Executive Officer: Justin Sun
Chinese entrepreneur Justin Sun received a bachelor's degree in history from Peking University (2007-2011) and a master's degree from the University of Pennsylvania (2011-2013), a member of the American Ivy League group of schools. Sun is the founder of the Peiwo app – China's largest audio content community, with more than 10 million registered users and over one million monthly active users. Sun joined Ripple in its early days, where he served as chief representative for Ripple's Greater China Region. Sun was listed in the 2015 Forbes China "30 under 30" and in the 2017 Forbes Asia "30 under 30". The 27-year-old entrepreneur received the "Global Shaper" title at the 2014 Davos Forum (World Economic Forum). Hailed as "the next Jack Ma", Justin Sun was personally invited to join Ma's Hupan University by the billionaire Alibaba founder himself.
Chief Technology Officer: Lucien Chen
Lucien Chen has previous experience in many first-tier Internet companies, such as Netease (NASDAQ:NTES) youdao, Tencent (00700.HK), Qihoo 360 (NASDAQ:QIHU) and SM search (Alibaba P8 +). With a thorough understanding of cryptography, Chen has invested in bitcoin at the early stages.
Technical Supervisor: Keelson Yang
Yang has worked for UFIDA — a leading provider of enterprise management software, corporate Internet services, and corporate financial services in the Asia-Pacific region, and for China Roads Information Technology (Beijing) Co., Ltd. — China's leading provider of express highway monitoring system solutions. Yang has been invested in blockchain technology and cryprography since 2013.
Senior Rear-End Engineer: Dongdong Huo
A former technical director of rear-end technology at InstNews and VnNews — the largest news applications in Latin America and Southeast Asia, respectively, Huo has shifted focus to blockchain technology in 2015.
Product Supervisor: Deuce Yu
Deuce Yu has previous experience as product manager for two Chinese social platforms: Kaixin and RenRen.He. Yu also worked as product manager at the Department of Social Interaction and Games.
Market Supervisor: Tim Guan
A former director of Global China Group's information strategic system, Guan has obtained investment from Matrix Partners China and has created a Chinese youth association with nearly 200,000 members.
Operation Supervisor: Charles Zhang
Charles Zhang is the co-founder and COO of Elegance Space. A former secretary-general for the Elegance Space Chicago branch and an editorial board member of China's Commerce Association, Zhang has joined the TRON team in 2016.
TRON INVESTORS
Shuoji Zhou – Initial partner of FBG Capital
Hitters Xu – Founder of Nebulas and ico365
Binshen Tang – Founder of Clash of Kings, with over 10 million monthly active users worldwide
Chaoyong Wang – Founder of China Equity Group, with over $2 billion USD market value
Wei Dai – Founder of ofo, the biggest shared bicycles provider in China, with an estimated value of over $3 billion USD
Weixing Chen – Founder of Kuaidi, famous angel investor
Charles Xue – Famous angel investor
Mingshan Yin – Founder of Lifan Group, with over $2 billion USD market value
Linke Yang – Founder of BTC China
TRON'S CORE VALUES
Guided by the belief that the Internet should be decentralized, as originally intended by the inventor of the World Wide Web, Tim Berners-Lee, TRON will grant users fundamental ownership and control over the data they share.
TRON is an ecosystem operated by a non-profit organization and will remain a project designed to serve the masses. TRON aims to use content to reward people, not to control people. The profit earned will be kept as outlays for other activities instead of being distributed among the developers.
« Back to Wiki Homepage