Bitcoin skyrocketed to a new record high of $9,103.71, at 07:19 UTC on Sunday. The leap comes ahead of the expected launch of the CME bitcoin futures contract, announced for mid-December.
Bitcoin rose more than 7% on the day, to a new all-time high (ATH) of $9,103.71, trading around $9,007 midday on Sunday. BTC's market cap turned higher at over $150 billion – a 9.3% increase in less than 24 hours. The total market capitalization for all cryptocurrencies has also clinched an ATH just shy of $300 billion, currently standing at over $284 billion.
After a topsy-turvy week with bitcoin price going up and down in the $7,762-$8,790 range, trading volumes were expected to be thin over the Thanksgiving weekend, due to U.S. banks being closed.
Contrary to expectations, bitcoin sloughed off losses and broke recent resistance levels.
According to CNBC contributor and CEO of investment firm BKCM Brian Kelly, "the move appears to be retail driven", as people stoked up on bitcoin during Black Friday and Thanksgiving.
Per CNBC, U.S. bitcoin exchange Coinbase added approximately 100,000 new accounts over the Thanksgiving holiday.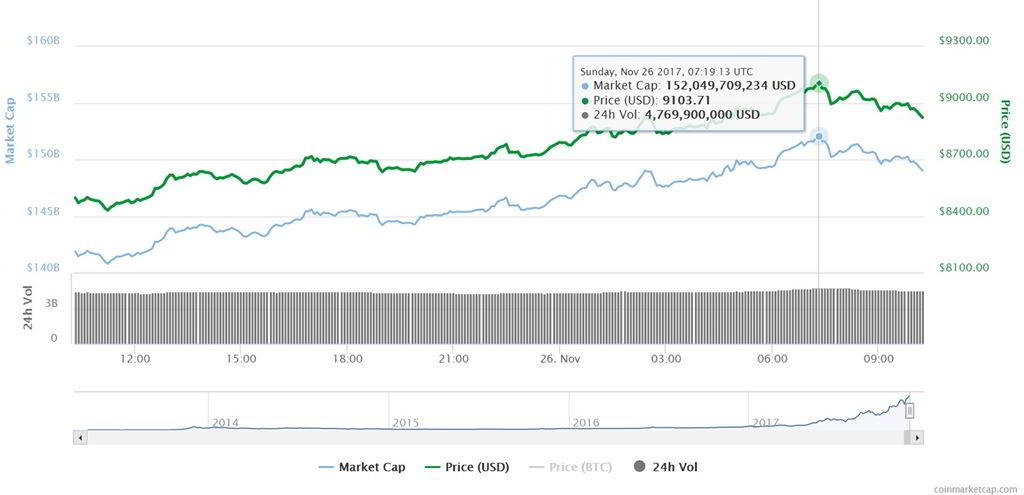 The world's largest options and futures exchange, CME, is planning to list bitcoin futures by mid-December, pending regulatory review. According to recent reports, JPMorgan Chase is also considering allowing clients to trade bitcoin futures.
Per CryptoCompare, USD-BTC trading volume accounts for 24% of total cryptocurrencies trading. The Japanese yen has the largest share at 59 percent, while the South Korean won comes third at 10%.
Bitcoin (BTC) was pinned at only $765 on November 27, 2016. The cryptocurrency picked up a staggering 1129.65% on the year and 825.37% YTD. Should bitcoin hold onto the current rate of appreciation, it could break the psychological price hurdle of $10,000 in under a week.
Bitcoin price new ATH – Image source: Dado Ruvic/Reuters