The US Senate Judiciary Committee is currently taking a fresh look at bill S.1241, aimed at "Modernizing AML Laws to Combat Money Laundering and Terrorist Financing". If passed, the bill would criminalize concealed bitcoin ownership and affect cryptocurrency holders both in the US and abroad.
During a recent hearing, the US Senate Judiciary Committee has stretched out the definitions of "financial account" and "financial institution" in the United States Code to include digital currencies and digital exchanges.
According to the bill, the Secretary of Homeland Security and the Commissioner of U.S. Customs and Border Protection are expected to submit reports "detailing a strategy to interdict and detect prepaid access devices, digital currencies, or other similar instruments, at border crossings and other ports of entry for the United States".
Bill S.1241 would amend the definition of "financial institution" in Section 5312(a) of title 31, United States Code to include:
"An issuer, redeemer, or cashier of prepaid access devices, digital currency, or any digital exchanger or tumbler of digital currency."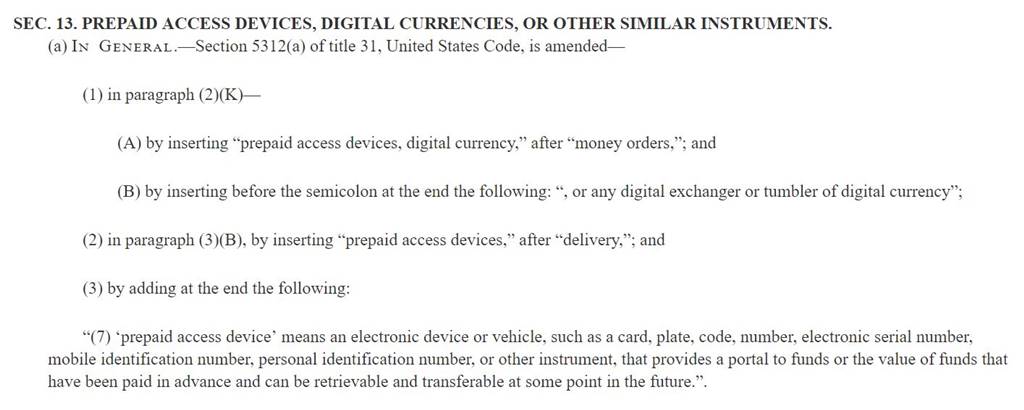 Furthermore, "the bill criminalizes intentionally concealing ownership or control of a bank account," according to Ranking Member of the Judiciary Committee, Senator Dianne Feinstein. This would include concealed bitcoin ownership or other similar "prepaid instruments" as stated in Section 5312:
"A 'prepaid access device' means an electronic device or vehicle, such as a card, plate, code, number, electronic serial number, mobile identification number, personal identification number, or other instrument, that provides a portal to funds or the value of funds that have been paid in advance and can be retrievable and transferable at some point in the future."
Earlier reports indicate that the White House is also monitoring bitcoin and other cryptocurrencies.
Asked about cryptocurrency, the White House said they're monitoring it. Pushed further, Sanders mentioned Homeland Security specifically. pic.twitter.com/55n3SI0NvE

— Fran Berkman (@FranBerkman) November 30, 2017