The biggest cryptocurrency trading platform in Indonesia may soon have more investors than the country's century-old stock exchange.
Formerly known as Bitcoin.co.id, the Indonesia Digital Asset Exchange (INDODAX) currently has 1.15 million investors and is likely to reach 1.5 million members by the end of the year, according to INDODAX Chief Executive Officer Oscar Darmawan.
However, 1.5 million users is one of the more pessimistic projections. At the current growth rate of approximately 3,000 new members per day, the platform, which began its operations in 2014, might even exceed 2 million users by the end of 2018.
Most of the platform's users trade in bitcoin, Darmawan said.
"We are seeing almost 3,000 new members signing up everyday," Darmawan told Bloomberg. "Most people are trading in bitcoin though transactions in ethereum have increased significantly of late."
In contrast, the country's century-old Indonesia Stock Exchange, which offers stocks, futures, options and exchange-traded funds, has only 1.18 million registered participants, according to data from the Indonesia Central Securities Depository.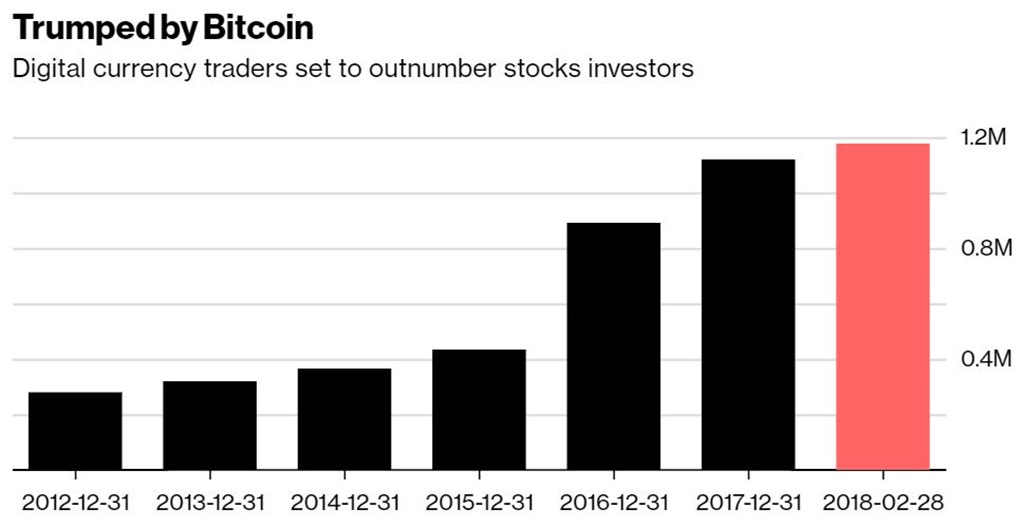 Indonesia Digital Asset Exchange expects its daily trading volume to double from a current average of $7.3 million USD (100 billion Indonesian Rupiah), INDODAX CEO said.
The stock exchange on the other hand recorded average daily transactions worth roughly $550 million, in 2017. Furthermore, companies traded on the exchange have an aggregate market capitalization of $520 billion, according to IDX data compiled by Bloomberg.
Indonesia's central bank banned payment-system providers under its watch from processing transactions using cryptocurrencies, on January 1. The ban does not apply to trading of cryptocurrencies.
While the central bank reinforces its position that the rupiah is the only currency that can be used as legal tender in the country, not all Indonesian officials echo the sentiment.
The country's investment board chief Tom Lembong is "very supportive" of cyptocurrencies, describing their rise as "a 100 percent free-market solution created spontaneously by consumers and private sector innovators".
Earlier this year, the country's former finance minister, Chatib Basri, said that Indonesia cannot stop the circulation of bitcoin, adding that prohibitive measures would not be effective.