At first glance, 2017 seemed to be all about bitcoin. Millions of Terabytes were devoted to chronicling bitcoin's every move, investors tried their best to get in on the action, and bitcoin's development into mainstream financial instruments stole the spotlight. But contrary to popular belief, 2017's best performing cryptocurrency wasn't bitcoin – not even close. It was ripple.
Ripple's native currency, XRP, is by far the best performing cryptocurrency of 2017.
XRP has edged up more than 36,000%, from $0.0065 per coin in January 2017, to $2.47 by the end of the year. Currently changing hands at $3.76 per coin, XRP is the second largest cryptocurrency in the world, with a total market cap of over $145 billion.
XRP's recent rally has potentially catapulted its creator, Chris Larsen, high up the world's billionaires list, provided he could sell his stake. With holdings worth well over $58 billion at press time, the Ripple co-founder and executive chairman would theoretically be ranked 5th on Forbes' list of the world's billionaires, ahead of Facebook's Mark Zuckerberg and Google founders Larry Page and Sergey Brin. Larsen reportedly owns 5.19 billion XRP coins of his own, currently valued at over $19.5 billion. Additionally, Larsen has a 17% stake in the $230 billion company, according to Forbes.
A San Francisco-based company founded in 2012, Ripple is using blockchain technology to develop a payments network currently used by more than 100 established financial players, including American Express and UBS, the company says. According to Ripple's website, XRP has a four-second settlement time, as opposed to more than two minutes for ethereum and over an hour for bitcoin.
"It would be helpful to think of Ripple as a corporation," Ripple's vice president of product, Asheesh Birla, told Business Insider. "We make software products and we sell them to banks, payment providers, like MoneyGram just as an example, and then corporates. XRP ledger is a standalone decentralized product, and the primary use-cases are around digital assets."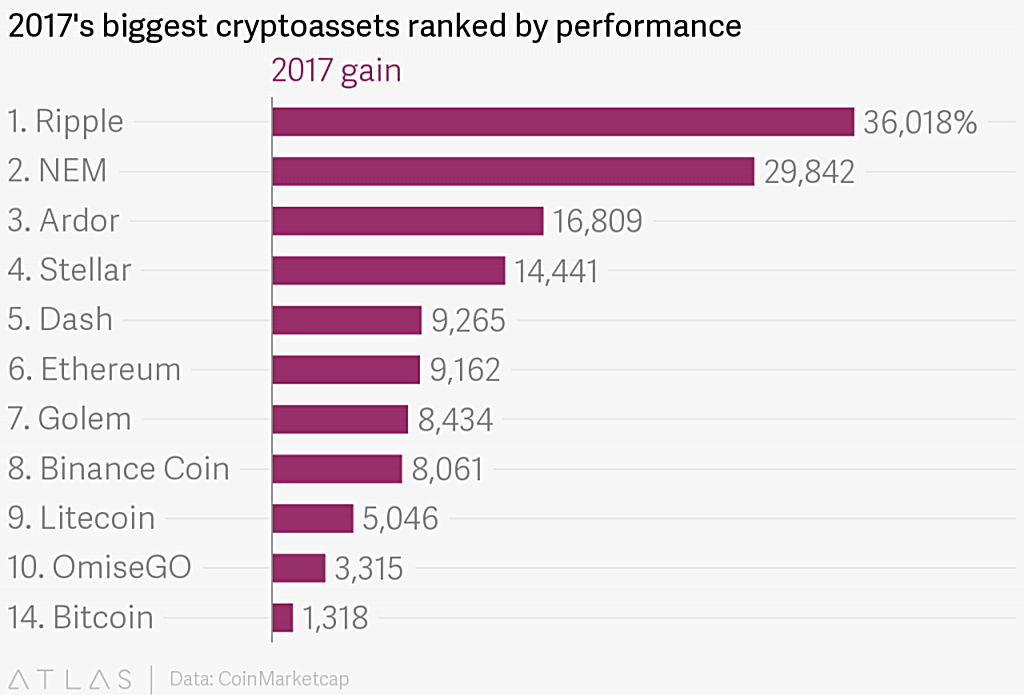 XEM – NEM's native currency – is ranked second in last year's best performing cryptocurrencies top, with a staggering 29,842% increase, followed by Ardor (ARDR), Stellar (XLM), Dash (DASH), Ethereum (ETH), Golem (GNT), Binance Coin (BNB), Litecoin (LTC), and OmiseGO (OMG).
Bitcoin didn't make it into top 10 best performing cryptocurrencies of 2017, ranking at no. 14 on the list, with a 1,318% increase, from close to $1000 on January 1, 2017 to over $14000 by the end of the year.
Ripple – 2017's best performing cryptocurrency – Featured image source: ripple.com