Ether (ETH), Ethereum's native currency, topped $700 for the first time on Wednesday, and surged as high as $747, reaching a renewed ATH.
After struggling for momentum at the $450 level over the past week, ether (ETH) broke the $600 mark on Tuesday and continued its bull-run to trade in record territory.
The second-largest cryptocurrency by market cap gained $100 in roughly 24 hours, broke the $700 resistance level and jumped to a new all-time high of $747 at 14:54 UTC on December 13.
The ETH price has since started a downside correction, dropping to $665. However, it remains well supported for more upsides. At press time, ether has already resumed its upward trajectory and is up 14.51% on the day against the dollar, trading at $698.42.
Ether has surpassed $50 billion in market capitalization for the first time, thus solidifying its position as the world's second-largest cryptocurrency. At current levels, ether's market cap is at over $65 billion, roughly 13% of the aggregate value of all existing cryptocurrencies. Ether's daily trading volumes have also increased dramatically over the past 48 hours, rising from generally $1-2 billion per day to over $5 billion on December 12.
Digital currency exchange operator and wallet provider Coinbase disabled ETH transactions on Tuesday. While the exact reason behind the temporary halt remains unclear, this would not be the first time an exchange disables transactions due to increases in price and trading volumes. Earlier on Tuesday, the Coinbase website showed "service unavailable" and was reportedly down for maintenance.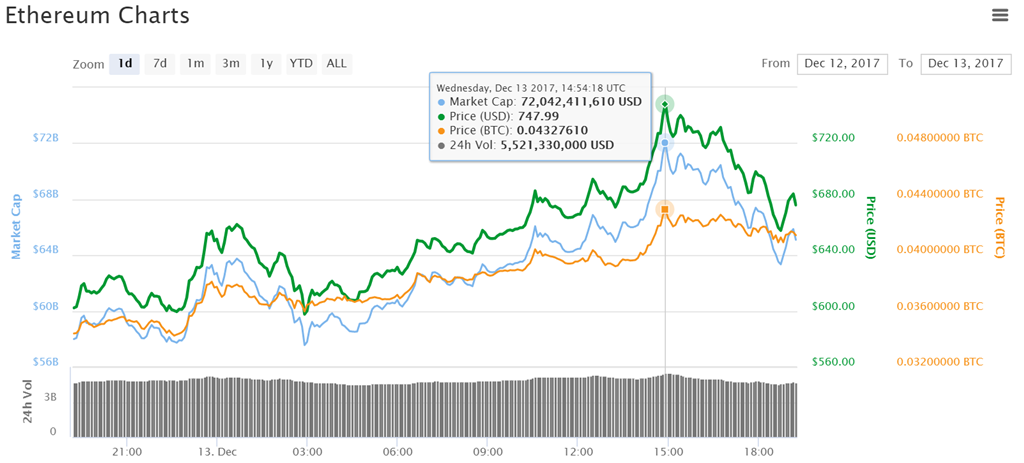 Per investing.com data, ETH has appreciated against USD by 100.24% on the week, 8038.00% on the year and 8251.62% YTD.
What drives the recent ether gains
The surge seems to have started following reports that UBS, Barclays, Credit Suisse, KBC, Swiss stock exchange SIX, and Thomson Reuters would lead an Ethereum-based blockchain platform.
The initiative will reportedly be used to help participants in the project comply with the European Union's Markets in Financial Instruments Directive II (MiFID II), an overhaul of EU rules that aims to make trading within the bloc more transparent.
"The project is getting market participants to collaborate using blockchain to improve regulatory reporting," Peter Stephens, head of blockchain at UBS, told Reuters.
"The news that Ethereum is being used as a base identity layer in conjunction with some of the larger banking giants out there is a positive ratification of the technology," Crypto Compare CEO Charles Hayter told CNBC.
The project's pilot phase is set to conclude at the end of January.