Goldman Sachs advises clients against betting on a bitcoin price surge past the $8,000 mark, according to a recent note sent out by technical analysts Sheba Jafari and Jack Abramowitz. Bitcoin will show signs of a consolidation, but still has more room to grow, the Goldman Sachs bitcoin analysis shows.
Bitcoin (BTC) has gained more than 630% this year and is currently trading near $7,200. According to a note sent out to clients from Goldman Sachs technical analysts Sheba Jafari and Jack Abramowitz, bitcoin could hit the $8,000 mark, but that might trigger a consolidation. The note advises traders against betting on a surge past the $8,000 mark.
"It exceeded an equality target from the July low at 6,044," Jafari wrote, as quoted by Business Insider.
"This break indicated potential for an impulsive advance, one that could reach at least 7,941. This is the minimum target for a 3rd of 5-waves up and should therefore be a level from which to watch for signs of a consolidation."
However, the Goldman Sachs analysts remain optimistic and believe bitcoin has more room to grow.
"Given that this is just a third of five waves up, the implications are that bitcoin has potential to run further over time," they said.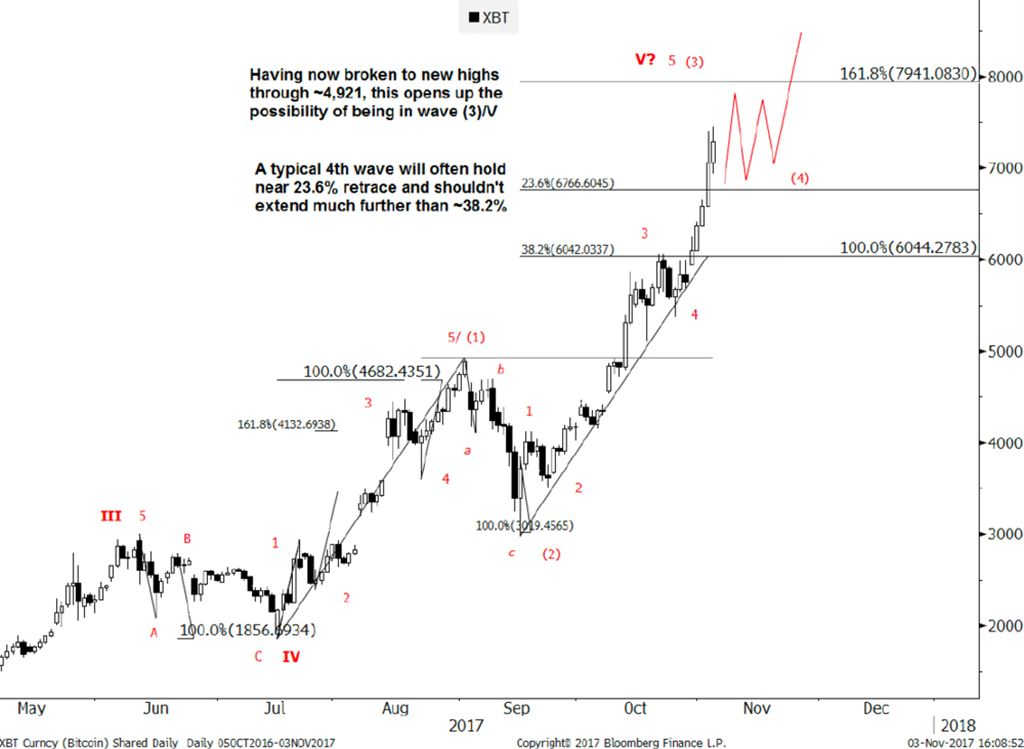 Bitcoin skyrocketed to a fresh all-time high of $7,601.39 on November 6 and has gained more than $1,000 since November 1, following the announcement that one of the world's largest exchange groups, CME Group, was launching a bitcoin futures product by the end of the year.
The price surge also comes as traders count the days until the upcoming SegWit2x fork, that could split bitcoin into two more cryptocurrencies. Previous forks created bitcoin cash and bitcoin gold. Forks double the number of coins held in exchanges or wallets backing the fork. Speculative buying prior to the fork could be driving up the price.
Goldman Sachs bitcoin warning – Image source: Tim Reckmann/Flickr