The IOTA price moved higher on Monday, bolstered by a recent partnership between the IOTA Foundation, Microsoft, Accenture and a number of other high-profile companies in an effort to develop a blockchain solution tied to the Internet of Things (IoT).
The IOTA price rallied on Monday to yet another ATH against the dollar.
IOTA (MIOTA) soared to $2.50 at 08:09 UTC on December 4, taking on 118.71% for the week.
The altcoin edged up by more than 62% overnight, displacing DASH from the Top 5 cryptocurrencies by market cap, according to Coinmarketcap.
At press time, IOTA (MIOTA) is up 51.10% on the day, at $2.36. At current levels, IOTA has a market capitalization of over $6.5 billion.
To some extent, IOTA's recent rally can be attributed to heavy 24-hour trading volumes coming from listings on Korean exchanges, with more than 35% of trading coming from Coinone and Binance. IOTA has recently surpassed bitcoin (BTC), bitcoin cash (BCH) and ether (ETH) as the most active market on Binance.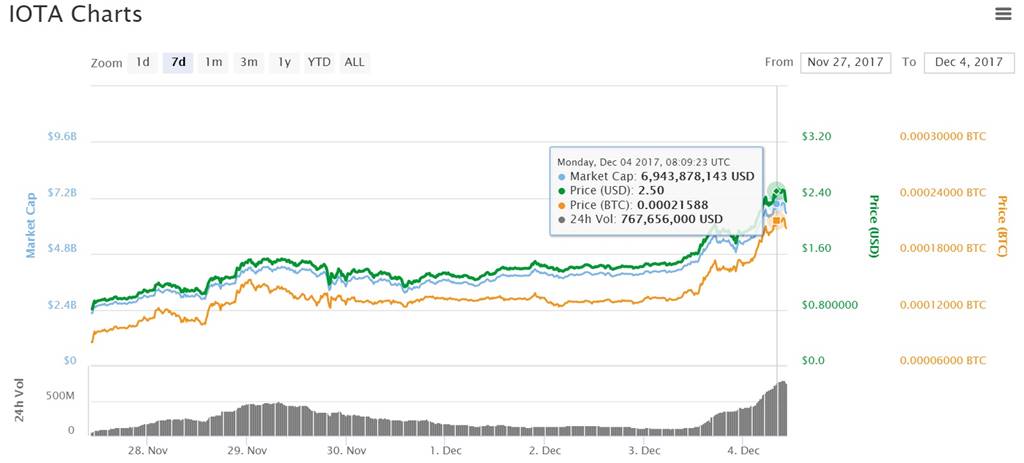 What drives the recent IOTA price rally
News of a recent partnership between IOTA, Microsoft and other high-profile companies have pushed the IOTA price deeper into record-trading territory.
IOTA has partnered with Microsoft, Accenture, Fujitsu, Deutsche Telekom, Bosch, PwC, and other companies to launch the first publicly accessible data marketplace for the Internet of Things (IoT).
"We are very excited to announce the launch of our data marketplace," IOTA co-founder David Sønstebø said. "This will act as a catalyst for a whole new paradigm of research, artificial intelligence, and democratization of data."
"We are excited to partner with the IOTA Foundation and proud to be associated with its new data marketplace initiative," said Microsoft blockchain specialist Omkar Naik.
The pilot project that aims to decentralize global data flows is scheduled to run until January 2018.