Bitcoin (BTC) extends gains to rise above $12,000 and reach a new ATH. IOTA (MIOTA) and Monero (XMR) retain their momentum and continue trading in record territory.
Bitcoin continues long streak of gains
Bitcoin extended its gains on Wednesday and broke above the $12,000 level, continuing its rally from below $1,000 at the year's start. BTC touched a new all-time high of $12,774 at 07:34 UTC, on December 6. At press time, bitcoin was up 6.92% against the dollar, changing hands at $12,669.
Paired against the dollar, bitcoin has edged up more than 1527% on the year and 1187% YTD. In the last month alone, BTC has seen a +70% increase in price against all major fiat currencies.
At current levels, bitcoin's market cap is just shy of $212 billion, almost 57% of the $374 billion aggregate market capitalization for all existing cryptocurrencies.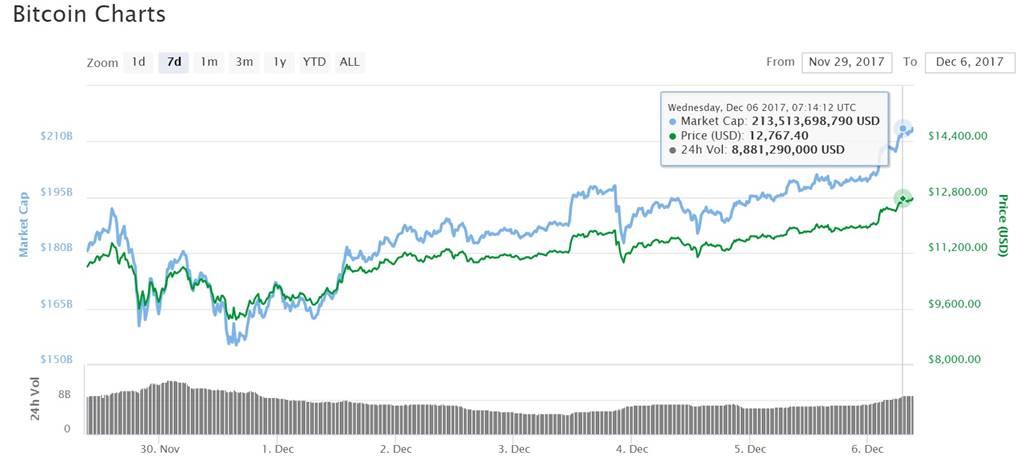 What drives the bitcoin market:
Bitcoin received a boost after Friday's announcement by the main U.S. derivatives regulator that it would allow CME Group Inc and CBOE Global Markets to list bitcoin futures contracts.
The world's largest futures exchange, CME, has completed self-certification with the Commodity Futures Trading Commission to launch its bitcoin futures contract on December 18.
In an effort to beat CME to the punch, CBOE will be launching bitcoin futures trading on December 10. Trading in the CBOE bitcoin futures contract will be free through December, according to a release.
These developments are compelling enough for bitcoin to maintain a tight grip on positive territory all throughout December. However, short-term price corrections are always possible.
Cryptocurrency market books weekly gains, IOTA and Monero move further into record territory
IOTA (MIOTA) knocked down Ripple (XRP) to become the fourth largest cryptocurrency by market cap, according to Coinmarketcap, trailing behind Bitcoin (BTC), Ethereum (ETH) and Bitcoin Cash (BCH) with a market capitalization of $14.5 billion. At press time, IOTA is up 76.92% against the dollar, at $5.21. Paired against the dollar, IOTA is up 309.76% on the week and a stagerring 1237.22% on the month.
Daily trading volumes are nearing $3 billion, as MIOTA/USD has become the largest trading pair on Bitfinex. IOTA has also recently surpassed bitcoin (BTC), bitcoin cash (BCH) and ether (ETH) as the most active market on Binance.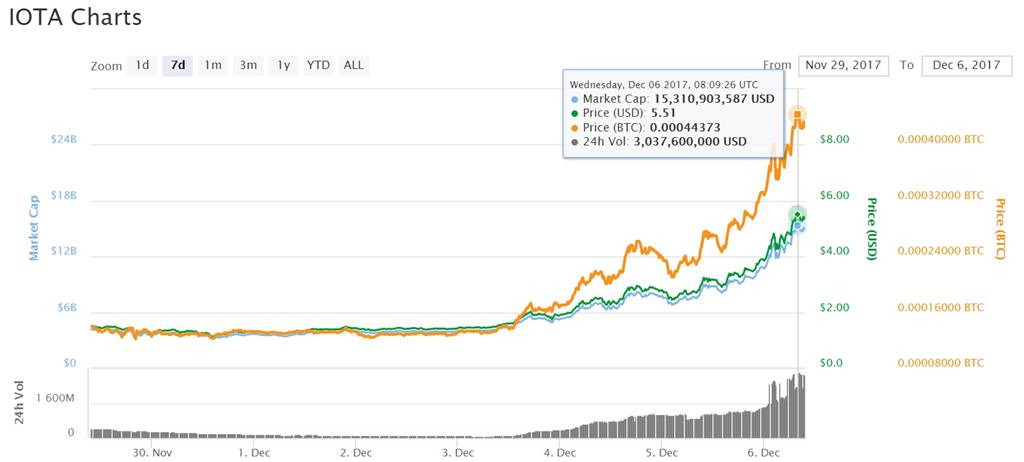 What drives the IOTA market:
News of a recent partnership between IOTA, Microsoft and other high-profile companies have pushed the IOTA price deeper into record-trading territory. The partnership sparked optimism among the investors, sending MIOTA on an unprecedented bull-run.
Monero (XMR) has clocked a new ATH of $298 at 04:44 UTC on December 6. The altcoin has gained 57% against the dollar this week, logging a 164% rise on the month. At press time, XMR is up 25% on the day, changing hands at $279. Monero's current market cap is at $4.3 billion.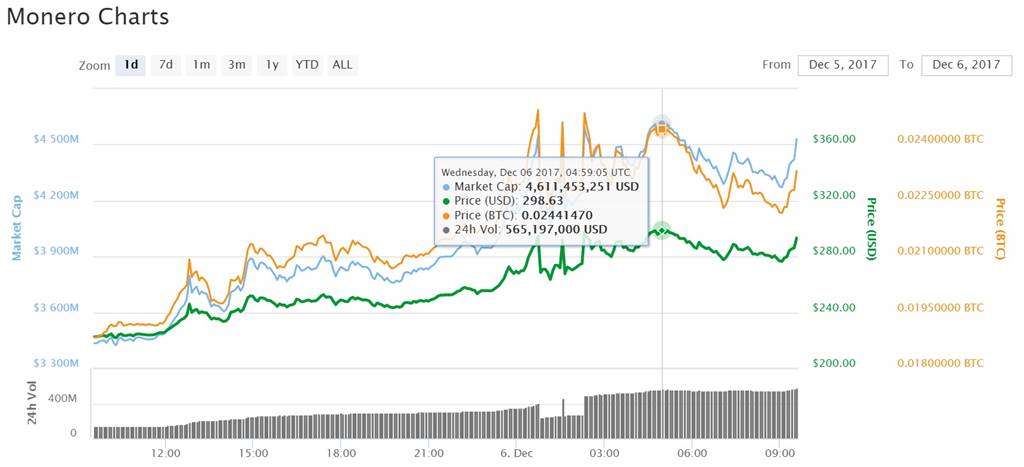 What drives the Monero market:
XMR witnessed an upside break of the trading range after reports hit the wires that Project Coral Reef – Monero's new online shopping initiative – will allow music fans to use the cryptocurrency to purchase holiday gifts and merchandise from more than 35 artists, including Mariah Carey, Toby Keith, and Fall out Boy.
Furthermore, businessman and cybersecurity pioneer John McAfee praised monero on a recent episode of Real News with David Knight.
Cryptocurrency market update – Image source: Zach Copley/Flickr