NEO has reached a new ATH of $196.85 by Tuesday's market open and seems ready to blast new records, as other major cryptocurrencies either sported modest gains or continued their trip into red territory unabated.
NEO rallied to a new ATH of $196.85 at 20:29 UTC on Monday, taking on 51% for the week, according to coinmarketcap.
During the January 13-14 weekend, NEO was the only major cryptocurrency to go on a bull-run, while its counterparts were caught in a bearish sentiment.
At press time, NEO has started a downside correction, dropping to $160.94, up 1.72% on the day against the dollar and 15.11% against bitcoin (BTC). However, NEO remains well supported and can be expected to continue trading in record territory.
At current levels, the NEO cryptocurrency has a market cap of $10.46 billion. NEO's daily trading volumes have also increased over the past 48 hours, rising from generally under $500 million per day to roughly $1.5 billion on January 15.
Per coinmarketcap data, NEO has edged up approximately 175% on the month against the dollar and 137% YTD.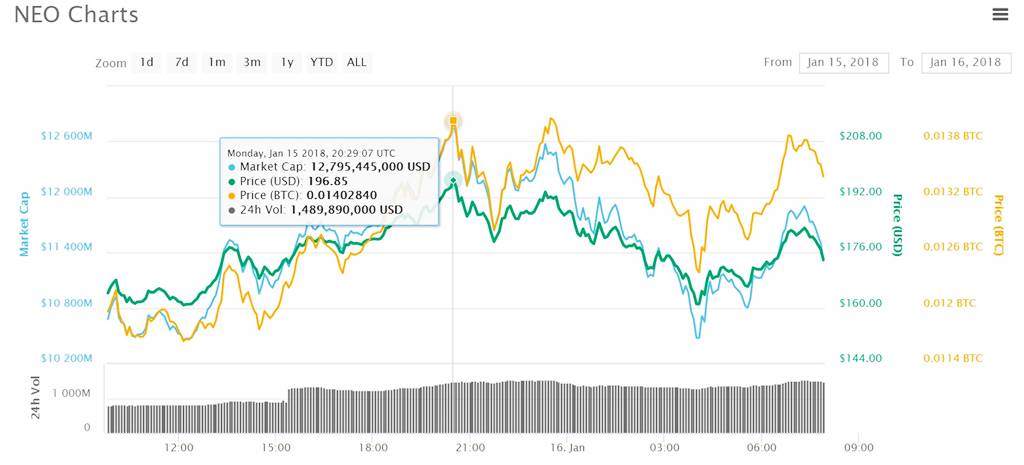 What drives the recent NEO rally
Dubbed "the Chinese ethereum", NEO is a non-profit, community-based blockchain project. Formerly known as Antshares, NEO provides an advanced smart contract code which supports decentralized commerce, digital identities and the digitization of many different assets.
Fitting within Chinese regulations
What's special about NEO is that it might very well turn out to be one of the only cryptocurrencies that could work in China, where cryptocurrency regulations are extremely strict.
In a recent interview with Bloomberg, NEO founder Da Hongfei has expressed support for regulation, saying that NEO wants to be "the place people go to when they want to do serious and reliable transactions".
International dev moves
NEO has been built to fit within Chinese regulations. However, NEO has recently made some interesting dev moves, peeking over the Chinese wall to put nodes online in Sydney, California and Michigan.
Upcoming ICOs and scarcity of GAS
Moreover, the NEO platform is projected to host at least 29 ICOs over the coming year. Based on the NEO blockhain, projects such as Red Pulse, Qlink or NEX will be fueled by NEO's GAS token – much like the gas used in ethereum. NEO cryptocurrency holders are rewarded GAS tokens, provided they keep their NEO coins in supported wallets. Since GAS has a finite supply, with new projects being fueled by the tokens, the scarcity has driven the GAS price up roughly 147% on the month against the dollar, to $86 by Tuesday's market open. That is another factor that is expected to keep the NEO price on an upward trajectory in the coming months.
Bullish sentiment in the media for the NEO cryptocurrency 2018 prospects
The fresh NEO rally is not surprising, given the preponderance of bullish sentiment in the media and in recent sentiment polls. Forbes ran a story mentioning NEO as one of several altcoins that were likely to at least double their value throughout 2018. Marketwatch, investing.com and other media outlets have also mentioned NEO as one of the best options for cryptocurrency investments this year. Additionally, over 15,000 people voted NEO as the cryptocurrency with the highest potential for 2018, in a poll ran by popular crypto Twitter figure @crypto_rand.
Top 10 Voted Coins with Biggest Potential for 2018:

1. $NEO @NEO_Blockchain
2. $ETH @ethereumproject
3. $BTC #Bitcoin
4. $XRB @raiblocks
5. $STRAT @stratisplatform
6. $XZC @zcoinofficial
7. $ZRX @0xProject
8. $IOTA @iotatoken
9. $OMG @omise_go
10. $DGB @DigiByteCoin

— Crypto Rand (@crypto_rand) January 2, 2018