NEO price rallied Saturday to a more than three-month high against the dollar to $48.09, taking on 69% for the week. The gains can be attributed to recent speculation surrounding a potential NEO developer contest held in association with Microsoft. NEO has not confirmed any partnership with Microsoft.
NEO rose to a more than three-month high of $48.09 on November 18, before closing at $42.74, according to coinmarketcap. The Chinese altcoin has a total market capitalization of $2,725,450,000.
Rumors over a potential collaboration between NEO and Microsoft for an upcoming developer contest kept the NEO price in a tight trading range. The rumored partnership remains unverified.
Regardless of whether the Microsoft rumors prove true, NEO will most likely hold onto its recent gains for a few more days, thanks to heavy 24-hour trading volumes estimated at $394,658,000 at the hour of writing.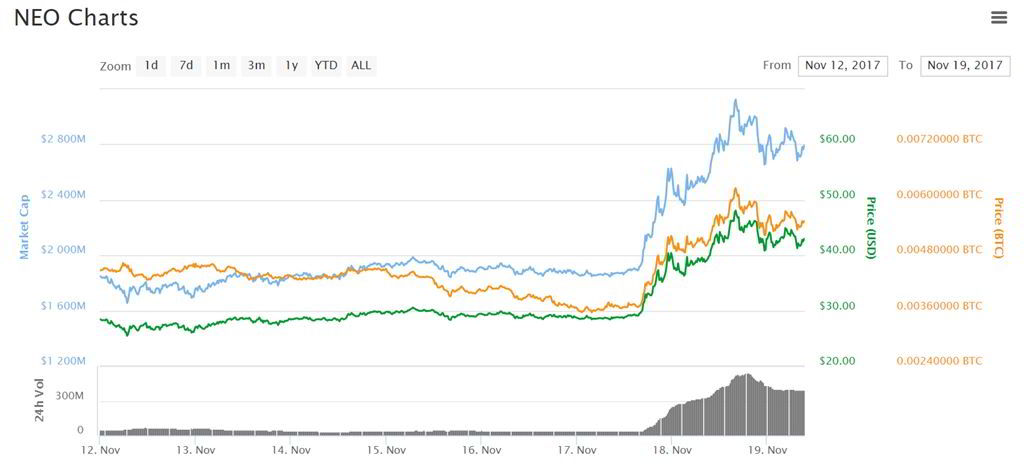 Other developments might serve as a backdrop to NEO's recent surge.
ProjectICO – a turn-key ICO solution for token sales – will be shifting from the ethereum blockchain to develop new projects moving forward on the NEO platform.
Moreover, PeerAtlas, DeepBrain, Onchain's Ontology, THEKEY, QLink have all settled on NEO as their blockchain of choice.
Dubbed "the Chinese ethereum", NEO is a non-profit, community-based blockchain project. Formerly known as Antshares, NEO provides an advanced smart contract code which supports decentralized commerce, digital identities and the digitization of many different assets.