The entire cryptocurrency market was taken for a turbulent ride on November 29, after trading in record territory for days. Dash managed to buck the weak trend and remained the only Top 10 coin in the green, with a 25% rise on the day. At 09:14 UTC on November 30, Dash hit an ATH of $822.18.
Cryptocurrencies look at double-digit drops, amid seesaw volatility
Most major digital currencies fell sharply on Wednesday afternoon, after days of constant, solid gains.
Bitcoin (BTC) gained and dropped well over $1,000 in less than 24 hours. The currency hit an ATH of $11,517 at around 14:14 UTC, before shedding 16% in extreme volatile trading to come off highs at $9,601. BTC has since stabilized in the $10,100-$10,500 territory. At press time, bitcoin is down 5.22% on the day against the dollar, changing hands at $10,322. Considering that bitcoin had only broken the $9,000 level on November 26 and skyrocketed to $11.5k in roughly three days, a price correction was to be expected.
Ethereum (ETH) also experienced a sharp slide on Wednesday. ETH traded near $448, almost 14% off its all-time high hit earlier in the day. At press time, ether was down almost 10% on the day, at $436.38. Bitcoin Cash (BCH) edged down close to 15% on the day, changing hands at $1,367.65.
Dash bucks the weak trend, goes on record-setting spike
Dash is the only Top 10 coin currently in the green. After breaking the $600 mark last week, the cryptocurrency continued its bull-run and is currently on a record-setting wave. Dash hit an ATH of $822.18, at 09:14 UTC on November 30, before withdrawing into $800 territory. At press time, Dash was up 23.37% against the dollar, at $802.10.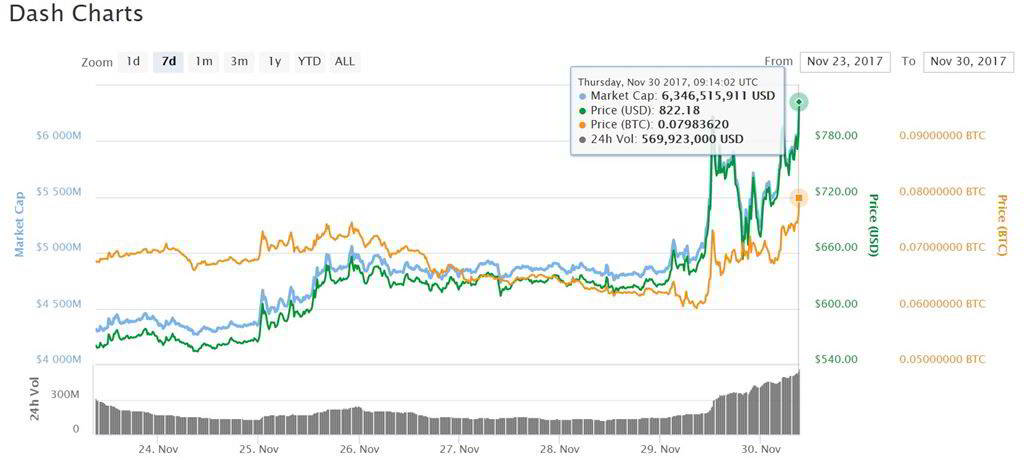 At current levels, Dash is the fifth largest cryptocurrency by market cap, with a total market capitalization of over $6 billion.
Per investing.com, Dash has seen an impressive monthly rise of 171.73% against the dollar, shooting up from $282 on October 28 to $631 on November 28 and then over $800 two days later.

What drives the recent Dash gains:
The recent surge could be driven by increased South Korean demand. According to data from CoinMarketCap, nearly half of Dash's volume comes from South Korea's Bithumb exchange.
Another possible explanation for the recent uptrend is the fact that the Dash cryptocurrency has been made available to Zimbabweans. The currency's backers have announced a joint venture with KuvaCash, a program claiming to have a solution for Zimbabwe's ballooning inflation, collapsing currency and declining national economy on the back of recent political turmoil.
"The joint venture they are executing with KuvaCash in Zimbabwe is a real game changer; value, of course, stems from not just supply and demand, but from adoption and potential. Dash's entrance in Africa will significantly improve the lives of thousands of people in Zimbabwe, who will enjoy access to a better form of currency, outside the failing fiat, failing USD-pegged bonds, and dirty dollar bills," Coinsource CEO Sheffield Clark said.
Dash was originally released as XCoin (XCO) in January 2014. Merely days after the launch, it was renamed Darkcoin, in reference to the user anonymity it ensures. In March 2015, it was renamed once again as Dash (digital cash), to appeal to a wider audience and avoid associations with the dark web.