Bitcoin (BTC) continues its unprecedented rally, tacking on 9.08% in heavy trading to yet another ATH of $11,047 a coin, before settling into $10,500-$10,800 territory.
Bitcoin takes center stage once more, as investors look ahead to the CME bitcoin futures launch set for mid-December.
The cryptocurrency jumped the $9,000 hurdle on November 26. Bitcoin remained in the green to extend gains by over $1,000 in less than 48 hours and clear the $10,000 milestone.
After touching an all-time high of $11,047 at 05:34 UTC on November 29, BTC tapped lows under $10,500 and highs above $10,800. At press time, bitcoin is trading in record territory, changing hands at $10,820.10 a coin.
With a current market cap of over $180 billion, bitcoin picked up 1335.31% on the year and just shy of 1000% YTD. Bitcoin was pinned at only $736 on November 29, 2016, and $962 on January 1, 2017.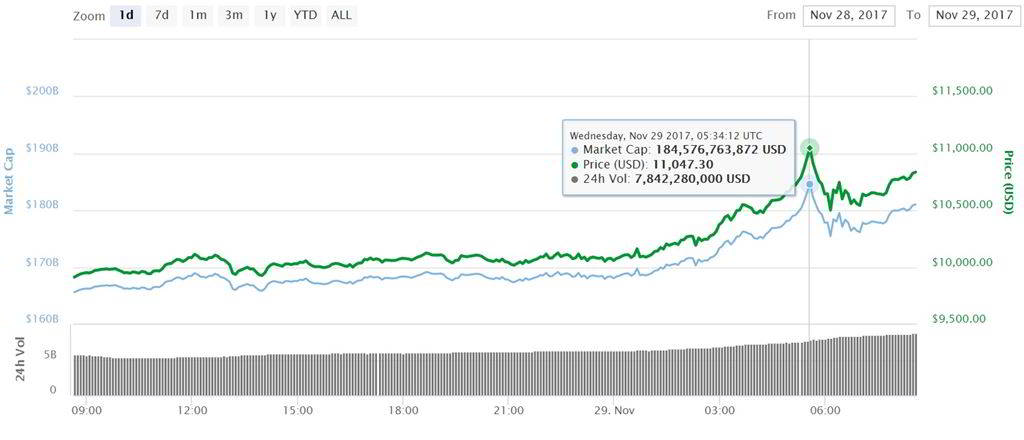 "We're seeing strong flows with leveraged traders almost entirely long. While we shouldn't put too much truck in round numbers, the performance has been mesmerizing and it is a sign of sky-high demand," Neil Wilson, senior market analyst at ETX Capital, told MarketWatch.
According to Wilson, CME's highly anticipated bitcoin futures launch has fueled the recent bitcoin performance.
"The legitimacy this gives bitcoin as a tradeable asset is very important," Wilson said.
The aggregate market cap of all existing cryptocurrencies broke the $300 billion mark for the first time on Monday, November 27, driven by bitcoin's bull-run. Two days later, the figure is currently estimated at over $328 billion.
Altcoins have also picked up steam, spending most of the week in the green. At press time, Ethereum (ETH) traded nearly flat, up 0.41% on the day to settle at $480. Bitcoin Cash (BCH), Ripple (XRP), Dash (DASH), and Monero (XMR) eked out minor gains and managed to hold onto their recent uptrend. Most notably, IOTA edged up by 40.46% on the day to an ATH of $1.52.